Liz's Story: A Wildly Funny Sense of Humor from a Breast Cancer Survivor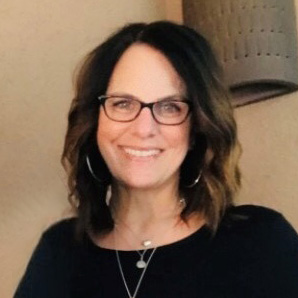 Cancer Type
Breast Cancer
Cancer has just become part of our life, but it doesn't mean we have to stop living it.
Most cancer patients when hit with the news of a cancer diagnosis are caught off guard about being faced with the "C" word. Unfortunately for Liz, her family is all too familiar with hearing the devastating news that a loved one has cancer. Within a few years she lost four family members to cancer, her father, mother, sister and brother-in-law.
It was after the birth of her beautiful baby daughter, Abigail Tate, when she learned that her mom had breast cancer. Liz decided to quit her job as a human resources recruiting manager and focus all her energy on taking care of her newborn baby and being her mom's caretaker.
After a four year battle, Liz's mom passed away in their Las Vegas home surrounded by family. Shortly after, Liz got happy news, she was pregnant with her son, Jack. Now it was time for the family to try and get back to normal after suffering so much loss at the hands of cancer. She focused on raising her children, both were now in school and Liz thought she should go back to school and finish her degree. So she enrolled in the University of Nevada, Las Vegas (UNLV). Liz said, "I was so excited to go back to school!"
Then during a routine mammogram cancer once again put the brakes on, ending her dream of completing her degree. Her mammogram was abnormal due to breast calcifications. During a second mammogram Liz explained, "This 65-year-old tech was like doing Pilates to get my boob in the x-ray machine, she had superhero moves to make my boob get in the right position."
"When I got the call to do a breast biopsy, I was like oh my god, oh my god, it must be stage 4. Getting the biopsy was the most traumatic part of all of this," said Liz. The panic continued as she thought, "I am going to die." Because of her fragile state the doctor actually asked "Are you okay, am I hurting you?"
She replied, "No I am just having a mental break down, I am sorry I am such a baby." Shortly after, her primary care nurse practitioner called with a somber voice, "I need you to come in TODAY, I can't discuss this over the phone." Liz reacted, "Is it that bad? Well, are you going to give me Xanax when I get there?!"
After her initial biopsy she was diagnosed with Ductal Carcinoma in situ stage (DCIS) 0. "That's like a baby cancer, I will be fine." Initially thinking this is no big deal "stage 0" Liz told her family she would just need surgery and then everything would be fine.
Now it was time to make a major decision, a lumpectomy or mastectomy. After consulting with family, friends, physicians and even a cousin that is a top cancer researcher at the University of Cambridge in England, Liz decided on a very unpopular decision, to get a double mastectomy.
"Several people said I was making a drastic decision, but I felt this was the best option for me, after all these are my boobs," laughed Liz.
Her diagnosis came on the day of a solar eclipse, on August 21, 2017. After her double mastectomy, it was discovered that the cancer had spread to a lymph node and broken through the lymph node wall. The diagnosis was then changed from DCIS to Invasive Ductal Carcinoma stage 2. Liz said, "A crazy side note, my gene mutation Ataxia Telangiectasia Mutated (ATM) is actually my daughter's initials."
Following surgery, Liz was referred to Medical Oncologist Dr. Raja Mehdi at Hope Cancer Care of Nevada for her ongoing care and treatment. She said, "I can't tell you how much I love Dr. Mehdi, he is so real and even though he has a million patients he still takes the time to talk to you."
Liz continued, "One of my favorite things is when you are in the chemo room, Dr. Mehdi will stop at every chair and talk to each patient. You can see how patient centered he is, he is 100% about the patients."
Dr. Mehdi commented, " In addition to fighting her disease with courage Liz has been a constant source of strength for other patients throughout her cancer journey. Fortunately, we were able to offer her targeted treatments with curative intent and she is doing great."
"It's not just Dr. Mehdi, I really love everyone at Hope and I am happy they decided to join the American Oncology Network because the added services helped Hope grow the practice while still being able to completely focus on their patients," said Liz.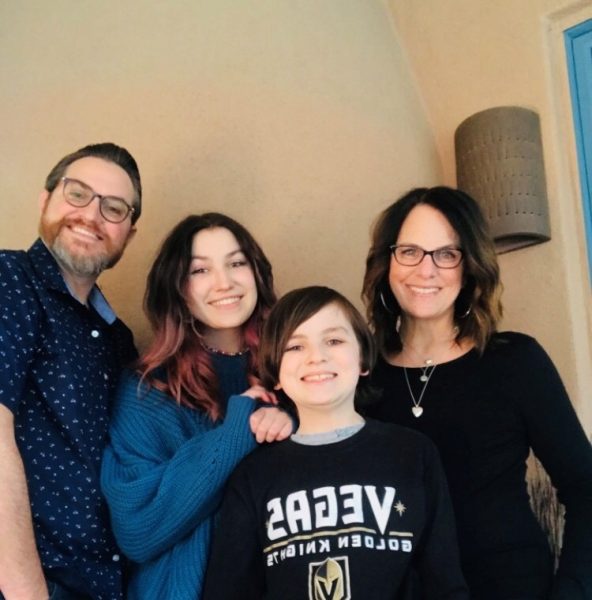 Liz said all the staff are great, it's very much a family-oriented feeling between the staff and the patients. Pointing out one RN in particular, stating, "Kristine has been with me through my entire cancer journey, she is one of the most amazing people I know. She is always kind and even helped with a breast cancer awareness charity event for my son's school."
It's been a really long journey for her. Four years since her diagnosis and Liz feels so lucky to have such a supportive husband of 17 years. Jeremiah was there through her surgery, hysterectomy, chemo and radiation —always asking her what she needs.
Liz has a positive attitude and a wildly funny personality, stating, "Thank god for the pandemic that has kept me home while I am taking this cancer medication because it gives me diarrhea. I have been taking this medication for a year and that's really the biggest impact on my family's life right now…so when you think of the scope of things when it comes to cancer, the biggest impact being my treatment, it isn't so bad."
Explaining how she gained weight during chemo because there is a donut shop by the practice, laughing she said, "Well I guess I will just have another donut during chemo."
The bright side of this experience of being a caretaker, a cancer patient and survivor and having to go on welfare after her husband's job loss, pushed her in the direction of a new career path.
Liz decided she wants to be a social worker and specialize in oncology so she can help others during their difficult time. Liz encourages cancer patients, survivors and caretakers to participate in support groups. She even started her own support group at Hope Cancer Care called Hope Uniting Girls (HUG). Although the group disbanded, she stated that it served a great purpose during her post cancer phase, "Oddly there were eight of us and the statistic is one in eight women will get breast cancer in their lifetime."
Admitting that cancer has taught her many things, Liz said, "The number one thing I learned is how to say NO! It's also okay for you to focus on your own personal life."
She remains positive and upbeat with the support of her family by enjoying after dinner dance parties, turning off the lights and turning on the strobe lights as Jack selects symbolic songs like "Stayin' Alive" by the Bee Gees and "Don't Stop Me Now" by Queen.
"Cancer has just become part of our life, but it doesn't mean we have to stop living it." Liz also attributes going back to school as what really helped her feel good about herself as she proudly states, "I will graduate in May 2022 with a degree in social work!"